Mary Dixon Kies, a Connecticut native, received the first patent granted to a woman in America for inventing a process for weaving straw with silk or thread. First Lady Dolley Madison praised her for boosting the nation's hat industry. At that time the US Government was looking for American industries to replace the lost European goods due to the war of many of the European nations with Napoleon and the consequent trade difficulties with them. Kies technique proved valuable in making cost-effective work hats. Straw hats manufactured in Massachusetts alone in 1810 had an estimated value of more than $500,000 or over $4.7 million in today's money. Unfortunately, the patent file was destroyed in the great Patent Office fire in 1836.
Weaving straw and silk, Kies could create fashionable hats of the day -a lot different than today!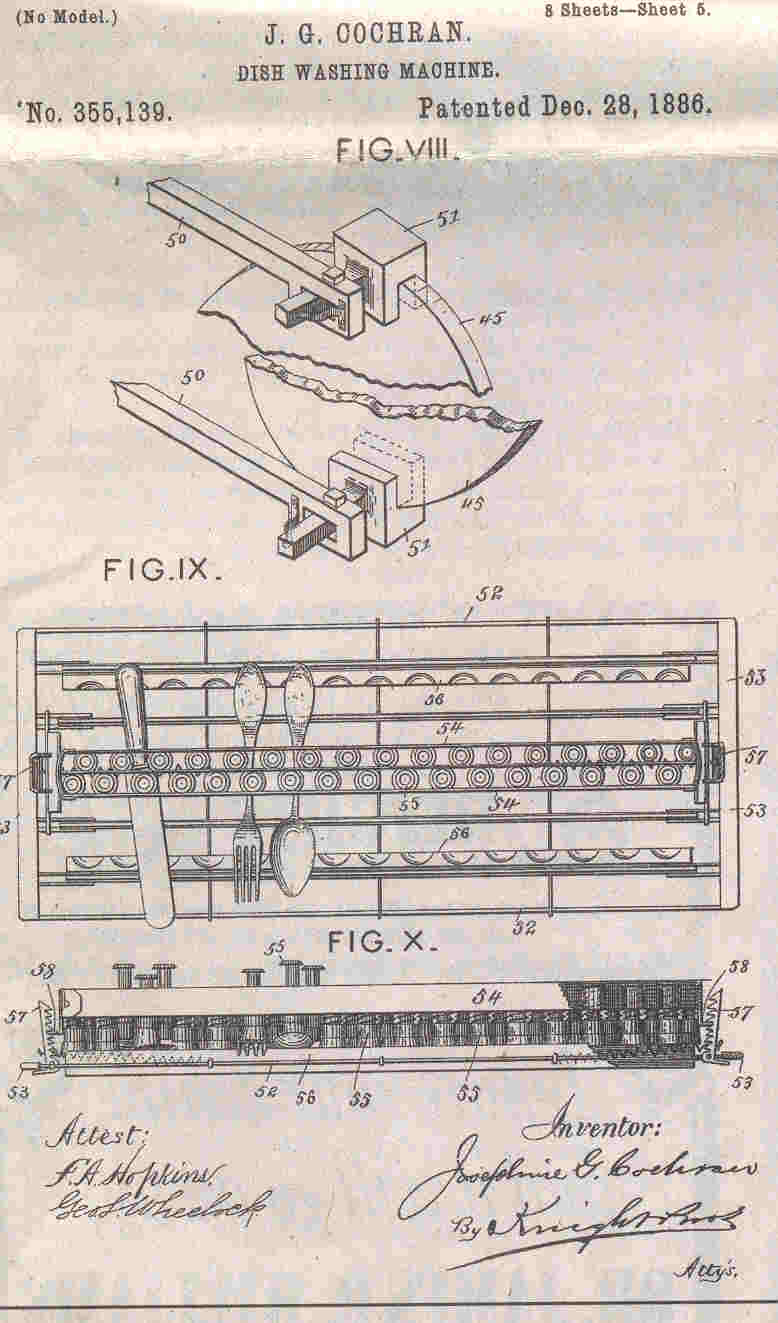 Dishwasher plans
The automatic dishwasher was invented by a woman named Josephine Garis Cochrane. She received an award for her invention at the 1893 World's Fair in Chicago. The company she founded to market the dishwasher to hotels, restaurants and other commercial groups was purchased in the 1920's by the Hobart Corporation. They introduced the "KitchenAid" brand name that is known today. Dishwashers under this name were introduced in 1949.
The windshield wipers were invented by a woman called Mary Anderson. She was granted her first patent for a window cleaning device in November of 1903 prior to the manufacture of Henry Ford's Model A. Her invention could clean snow, rain, or sleet from a windshield by using a handle inside the car. Her goal was to improve driver vision during stormy weather. During a trip to New York City, Mary Anderson noticed that streetcar drivers had to open the windows of their cars when it rained in order to see. As a solution she invented a swinging arm device with a rubber blade that was operated by the driver from within the vehicle via a lever. The windshield wipers became standard equipment on all American cars by 1916.
Compiled from the websites: 4000 years of Women in Science; America's Story from America's Library; About.com: Inventors; Lincoln Learning Online and Wikipedia, the free encyclopedia.