Publications of CWSP:

Publications of CWSP
/10-04-2006 /
Our publishing program has been developed in response to one of our main aims, related to the achievement of high level of awareness of the general public, the authorities and the non-governmental sector concerning the status of gender equality in differe ...

Library:

Library
/03-02-2005 /
In our library you can find texts of Bulgarian laws as well as links to international legal documents. The publications of CWSP are also presented here. The library offers articles and papers of Bulgarian and foreign authors treating different gender i ...

Bookshop:

Bookshop
/25-01-2005 /
This section is in Bulgarian language. Sorry for the inconvenience. For more information about our publications please visit the Books and Publications section in the Library or click here. ...


In focus:

CWSP participated in workshop on sharing of good practices on gender equality policies in Euro-Mediterranean region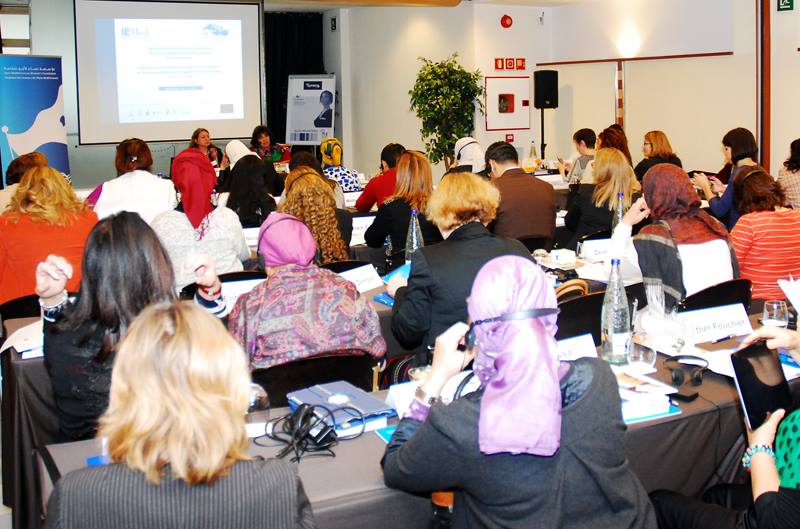 Center of Women's Studies and Policies participated from 4 to 9 of April 2016 in a training and sharing of best practices workshop, organised by the IEMed and the Euro-Mediterranean Women Foundation in the framework of the CSO-Wins EU-funded project.
36 representatives of civil society organisations and networks, working for gender equality in Tunisia, Algeria, Morocco, Palestine, Egypt, Libya, Jordan, Lebanon, Bulgaria, Greece and the European Women Lobby, met in Barcelona to discuss successful practices on implementing campaigns against gender based and domestic violence, guaranteing inheritance rights of women, as well as campaigns on political participation of women and capacity building for application of gender equality policies on local nad national level in the EUuro - Mediterranean region. More information about the presented practices you may find in the publication, developped within the project: https://www.euromedwomen.foundation/pg/documents/view/5583/en/4.



16 Days of Activism against Gender-Based Violence

On the 25th of November starts the International 16 of Activism against Gender-Based Violence campaign. The year 2015 marks the 24th year of the campaign, initiated in 1991 and this year the Center of Women's Studies and Policies Foundation will focus again on a topic, which is not so much discussed neither in Bulgaria, nor in Europe - the role of the private business for prevention, protection and reintegration of women suffering gender-based violence outside their workplace.
As a partner in the two years' project CARVE - Companies Against gendeR based ViolEnce , co-financed by the EU Daphne III Program, CWSP made a study in the period February-June 2015 on the level of information, attitudes and practices in companies in Bulgaria for prevention, protection and reintegration of women, victims of violence, happenning outside their workplace. Look at the results.



European conference "Families beyond borders - What is the impact of migration on families?"
is breaking taboos and provoking discussions on gender roles and transnational families in Europe.
5-6 November 2015 - Sofia, Bulgaria

Participants of the training "Designing and implementing your advocacy campaign for transnational families" | Photo © 2015 Ana Pérez
On the 5-6 November 2015, COFACE, the Confederation of Family Organisations in the EU and the Bulgarian Center of Women's Studies and Policies (CWSP), organized the "Families Beyond Borders" conference in Sofia, Bulgaria. The 2-day event, focused on transnational families, aimed at exploring challenges and consequences of what it means to move to a different country for better economic prospects, but leaving ageing parents and sometimes young children in their countries of origin.
Economic migration is not a new phenomenon but, while studies and policies are focussed on the person who move, little attention is paid to those family members who stay in the country of origin and the impact that the migration process has on the family has a whole. The departure of a family member is always a difficult decision and sometimes a last resort for families living in poverty. The profile of economic migrants in some areas is changing, bringing changes also on roles within the family: more and more women move to become care workers abroad and become the family breadwinners.




On going projects:

About us:

Contact us
/10-11-2004 /
CONACT INFORMATION CENTER OF WOMEN'S STUDIES AND POLICIES TATYANA KMETOVA, Executive director ADDRESS OF COURT REGISTRATION: Triaditca 6 str., fl.1, room 101, Sofia, Bulgaria ADDRESS FOR CORRESPONDENCE: Tsar Assen 38 str., Sofia 1000, Bulgaria ...


About us
/10-03-2004 /
The Center of Women's Studies and Policies (CWSP) is established as a Foundation under the Bulgarian Law on Non-Profit Legal Entities by the Decision of Sofia City Court as of 30 June 2003 (Company File № 5893/2003, tax code 1223126630, BULSTAT 131107 ...