About the project
The project (August 2010 - July 2012) objective's was to identify, at EU level, good practices in the field of awareness raising and training aiming at promoting self-assessment of carers' needs. Indeed, it is key that they take these steps to gain awareness of their difficulties, to define their needs and to ask for adequate support.
Absorbed as they are by their commitment to their relative, family carers often neglect their own issues and the outside support they could seek. Often even, they don't consider themselves as carers but just as parent or spouse, and they have no knowledge of their rights.
The project lead to the development of recommendations for the design of tools (training programmes, guidebooks) meeting the needs of carers. In order to find solutions adapted to the diversity of situations, the working group brought together associations from nine European countries (NGOs active in the field of disability, Alzheimer disease, family carers' organizations, etc.) and involved family carers at all stages. Beyond brainstorming on self-assessment, the project also encompassed study visits with the aim of understanding better the various schemes of help to carers existing in Europe.
The work program of the project can be seen here .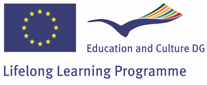 The project is funded by the European Lifelong Learning "Grundtvig" Programme, aiming at the promotion of adult education. This publication reflects the views of the author only, and the European Commission or its services cannot be held responsible for any use which may be made of the information contained therein